Unprecedented Technology Upgrade of HSIA and Television for More than 5,000 Rooms Completed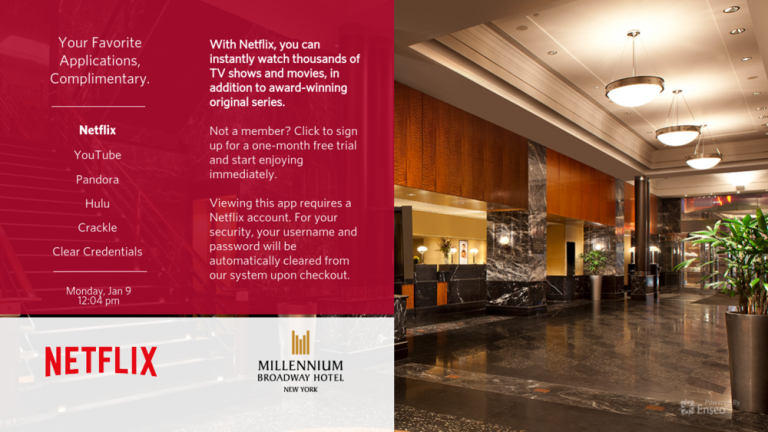 Richardson, TX (January 10, 2017) – Enseo, a trusted in-room entertainment systems integrator, recently completed its hospitality-grade installation for all 14 of Millennium Hotels & Resorts' North American hotels. With an impressive 5,121 rooms across the country, Millennium Hotels & Resorts selected Enseo in its portfolio-wide initiative to upgrade all guest-facing technology in North America.
In order to deliver the most immersive media experience to guests, Millennium Hotels & Resorts' upgrade included not only the in-room TV experience and best-quality Wi-Fi® coverage, but also guest-carried and guest-enabled media in each room. Dedicated to guest satisfaction, Millennium Hotels & Resorts invested in Enseo's Wi-Fi and High Speed Internet Access (HSIA) for all rooms and public spaces, as well as their In Room Entertainment platform. The platform features the world's fastest channel changes, interactive program guides, and free access to personal Netflix®, Hulu®, YouTube® and Crackle® subscriptions.
"Millennium Hotels & Resorts are thrilled to partner with Enseo at our entire U.S. portfolio of hotels that serve as home to thousands of international and domestic guests every year, each with a range of particular interests we constantly strive to meet. We believe in not only delivering the best-possible experience to our guests, but in being attentive to the modern traveler's entertainment and tech-savvy needs," said Paul Wong, President of Millennium Hotels & Resorts, North America. "Enseo's technology has been essential in helping us stay innovative and meet our guests' expectations."
Each Millennium Hotels & Resorts property is distinct in both its amenities and location, which is why travelers can now see everything the destination has to offer for themselves via the on-screen TV menu, enabled by Enseo. Additionally, guests now have control of audio entertainment and the ability to connect their devices via Bluetooth, or access their personal Pandora or Spotify accounts.
Millennium Hotels & Resorts was able to take advantage of Enseo's iCu, which allowed the network delivery to be over the current cables in the walls and eliminated costly cabling upgrade and inconvenient construction expenses. Also valuable to the hotel company was the ability to offer Enseo's HomeAwayFromHome™ customized Personal Area Networks (PAN) in every room. PANs allow each guest to effortlessly connect their devices to their own customized in-room network. Enseo's technical services are all supported by Enseo's cloud-based remote management systems and 24/7 customer care center.
"I am constantly impressed with the team at Millennium Hotels & Resorts.  This company celebrates the iconic and individual history of each property while demanding only the best technology for their guests. They are committed to their customer's experience being the very best it can be. In less than one year, we successfully upgraded the entertainment system for both TVs and HSIA in every North American property. It was truly amazing! Their team never stops innovating. We look forward to working with the team to continue bringing more benefits to each guest," said Vanessa Ogle, Founder and CEO of Enseo.
About Enseo
Enseo is the fastest growing technology services provider with a 17-year history of delivering sustainable innovation for the world's largest hotel groups. The Enseo solution includes free-to-guest content, hotel branding, remote monitoring and management, robust guest features, HSIA, digital signage and more. Enseo enables hotels to engage more deeply with their guests by providing them with more unique content choices such as Over-The-Top (OTT) applications, on-screen weather and flight data, and Bluetooth® connectivity all through the guest room TV. Enseo is the first hospitality integrator to license and deploy Netflix®, Pandora®, YouTube®, Hulu® and Crackle®. In addition to guest room control and entertainment, Enseo is the most deployed digital signage platform worldwide powering digital signage in hospitality, retail, healthcare, and stadiums/arenas. For more information, visit www.enseo.com.
About Millennium Hotels and Resorts North America:
Millennium Hotels and Resorts (MHR) is a dynamic, global hotel company, which owns, asset manages and/or operates a worldwide portfolio of over 100 hotels under three collections: Leng's, Millennium, and Copthorne. From historic addresses to trendy urban escapes across the globe, our hotels seamlessly blend genuine Asian hospitality with modern comfort. The strategic locality—and myriad offerings—of the diverse portfolio in cities such as London, Paris, Rome, Dubai, Abu Dhabi, Doha, Singapore, Beijing, Shanghai, Hong Kong and Kuala Lumpur makes MHR the ideal destination for business or leisure. Established in the United States in 2000, the North American arm of MHR includes a portfolio 14 hotels in New York, Los Angeles, Chicago, Boston, Anchorage, Boulder, Buffalo, Cincinnati, Durham, Minneapolis, Nashville and Scottsdale. www.millenniumhotels.com