By Timothy Torres | October 21, 2015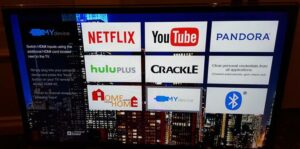 Hotels have given up on pay-per-view. Instead, guests can now binge watch their own Netflix accounts and listen to their own music from devices thanks to set-top boxes provided by hospitality company Enseo.
Every room in the East Side Marriott in New York City is already equipped with Enseo's streaming boxes. In fact, it's standard for Marriott hotels now, so if you go to one you might be able to plug in your personal account info, be greeted by the familiar Netflix interface, and pick up from where you left off in Daredevil or Twin Peaks.
Crackle, Hulu, Pandora, and YouTube are also available through the set-top box's menu. Marriott guests can also connect personal devices to the set-top box via Bluetooth. Just select your hotel room number from the list of Bluetooth sources on your device and stream wirelessly through the hotel room TV.