Richardson, TX – May 2, 2017 – Enseo is simplifying the way hotels and bars tackle TV setup with the official launch of GameChanger℠. A cloud-based application, Enseo's GameChanger provides a user-friendly and cost-efficient TV management tool for public spaces.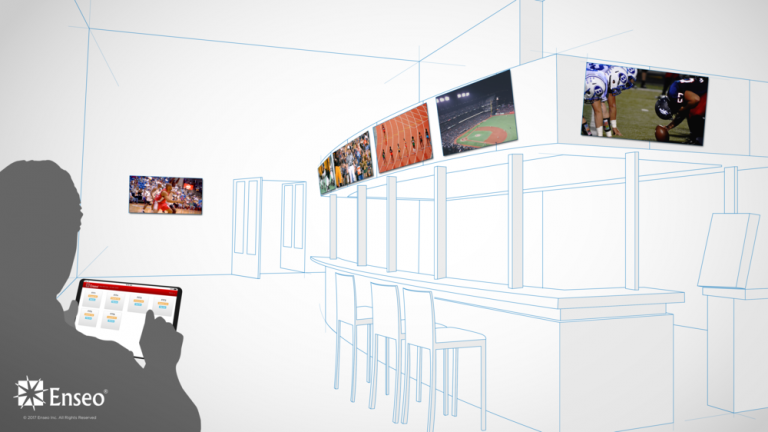 Juggling multiple remotes and ladders to change channels has long been a norm in bars and hotel restaurants. GameChanger gives full control to hotel staff by facilitating quick, synchronous management of hundreds of TVs via an approved mobile device. With the touch of a button, staff members can change TV channels, adjust volume, settings, and more to keep their customers happy without the hassle of additional tools or equipment. Bartenders or hotel staff have the ability to pick a game or show, drag it to a picture of their TV in the GameChanger interface, and immediately change the channel. Changes can even be made remotely.
The system operates on standard topology, including COAX, Ethernet, and COAX with Wi-Fi/Ethernet setups, making installation and maintenance simple. GameChanger also operates on existing networks, so no special or separate networks are necessary.
"GameChanger is a simple, user-friendly system that replaces a complicated, expensive video matrix switch," said Vanessa Ogle, Founder and CEO of Enseo. "We are very excited to release another product that makes hoteliers' lives easier and saves their properties hundreds of thousands of dollars."
Today, GameChanger is deployed at the J.W. Marriott Los Angeles L.A. LIVE where Enseo manages all televisions, including those in multiple public areas.
About Enseo
Enseo is the fastest growing hospitality technology services provider with a 17-year history of delivering sustainable innovation for the world's largest hotel groups. The Enseo solution includes free-to-guest content, hotel branding, remote monitoring and management, robust guest features, Wi-Fi, digital signage and more. Enseo enables hotels to engage more deeply with their guests by providing them with more unique content choices such as Over-The-Top (OTT) applications, on-screen weather and flight data, and Bluetooth® connectivity all through the guest room TV. Enseo is the first hospitality integrator to license and deploy Netflix®, Pandora®, YouTube®, Hulu® and Crackle®. In addition to guest room control and entertainment, Enseo is the most deployed digital signage platform worldwide powering digital signage in hospitality, retail, healthcare, and stadiums/arenas. For more information, visit www.enseo.com.