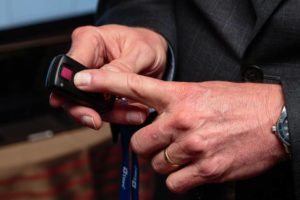 By Chris Kudialis | July 19, 2018
A panic button is being introduced at many Strip properties, giving workers a quick way to signal for help. The measure was a key part of the negotiations this summer when union officials coordinated on contract extensions for local service workers.
"Businesses have realized they have to do more to protect their employees," said David Simpson, chief product officer of Dallas-based panic button technology company, Enseo. "This will soon be all over the country."
Enseo officials showed off its technology Wednesday at Cosmopolitan, one of many properties on the Strip planning to have panic devices for workers.