Texas Schools Complete Installation for 2018 to 2019 School Year
Richardson, TX – Aug. 20, 2018 – Enseo, one of the fastest growing private tech companies in the U.S., is bringing its patented MadeSafe® emergency alert system to schools and institutions. Lovejoy Independent School District (LISD) in Texas, has selected MadeSafe, Enseo's technology-based security offering, as part of the district's comprehensive safety solution for their students and teachers. The installation is in place for all LISD campuses for the start of the 2018-2019 school year.
MadeSafe uses a patented combination of Internet of Things (IoT), networking and cloud computing to provide immediate notification of an incident or threat and accurate location of the alert to enable a quick response from school staff. Alerts could include a medical emergency, student altercation or encounter with a suspicious or dangerous person on campus. Each employee is issued a wearable alert button that works with technology deployed throughout the school to create a high-resolution detection grid. When the button is pressed, MadeSafe notifies first responders with an employee's specific location by displaying the location of the alert on a 3D map of the school as well as sending a text and email to designated staff.
LISD installed MadeSafe across the entire school district in each of its individual campuses, using each campus's pre-existing coax wiring infrastructure. The existing infrastructure enabled the installation to be quick, inexpensive and not a burden to existing Wi-Fi or other systems. The LISD's Superintendent's office integrated MadeSafe into the district's Emergency Response policies and procedures. Then over 600 LISD teachers and staff were issued and trained on the new procedures and use of the PLDs. While the first use of the technology for LISD is focused on security, there are plans to expand the use of the underlying Enseo technology to improve Wi-Fi for classrooms and additional applications for distance learning, learning on demand, student-led announcements and video conferencing.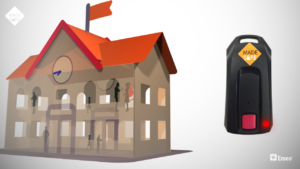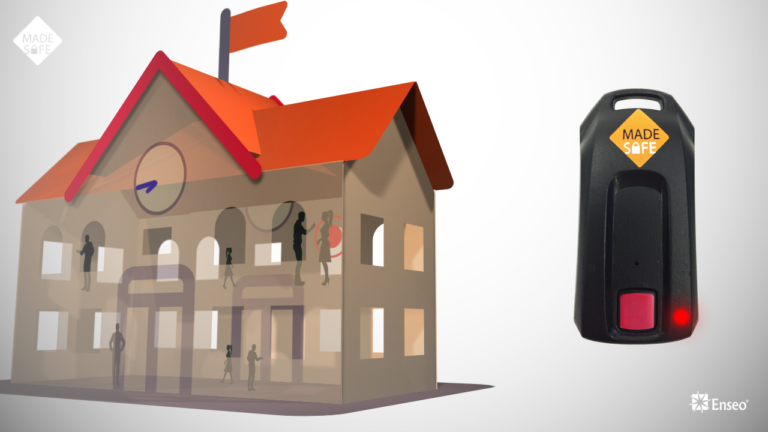 "Our community working together can truly make a difference to improve the safety, security and wellbeing of our children while at school. While Enseo has provided this advanced alert and location technology solution with MadeSafe, this installation would not be possible without the educational leadership of Lovejoy ISD and the law enforcement excellence of the Town of Fairview PD," said Vanessa Ogle, Founder and CEO of Enseo. "It is truly an honor to be working alongside these organizations and their passionate team members to do everything in our power to safeguard our community's most precious resources, our children. As a mother, I am not only thrilled my children are receiving the best education the state of Texas has to offer, but now I also have the peace of mind that they are safe and secure while at school."
"The wellbeing of our students and staff is top of mind for Lovejoy ISD. We are pleased to have found Enseo and their MadeSafe product within our own community," said Ted Moore, Superintendent of Lovejoy Independent School District. "The MadeSafe product was exactly what we were looking for in a technology to meet our objectives of leading not only in education, but in security and wellbeing as well."
Community safety is an important topic to Enseo. Since 2014, the company has invested its own resources to engineer and deliver its MadeSafe system for public places, including schools and hotels. Enseo took special care to engineer a solution for safety that would be affordable and accessible to any campus or people-person location, regardless of age or size of building. When New York City housekeeper unions requested a means of summoning help in the face of a crime, sexual assault or emergency, Enseo worked with the unions and hotel staff to meet their specific goals. Enseo developed MadeSafe to meet union standards and has continued to improve the technology when deploying in hotels across the U.S.
About Enseo
Enseo powers and manages the world's largest fully-monitored out-of-home media network, reaching 50 million people annually. With an 18-year history in technology innovation spanning markets such as Hospitality, Education, Hospitals, and Government Installations Enseo is the fastest growing technology-based services provider delivering sustainable innovation. The Enseo solution includes guestroom entertainment in hotels, Wi-Fi, remote monitoring and management, digital signage and MadeSafe security for associates. Enseo enables hotels to engage more deeply with their guests by providing them with more unique content choices such as Over-The-Top (OTT) applications, and Bluetooth® connectivity all through the guest room TV. Enseo is the first hospitality integrator to license and deploy Netflix®, HBO Go®, Pandora®, YouTube®, Hulu® and Crackle®. In addition to guest room control and entertainment, Enseo is the most deployed digital signage platform worldwide powering digital signage in hospitality, retail, healthcare, education and stadiums/arenas. Enseo is listed as 18th in Entrepreneur magazine's Entrepreneur 360 List of 2017's Best Entrepreneurial Companies in America, recognized as the 10th fastest-growing company as part of the Women Presidents' Organization (WPO) 50 Fastest-Growing Women-Owned/Led Companies, and listed three times in the Inc. 5000. For more information, visit www.enseo.com.